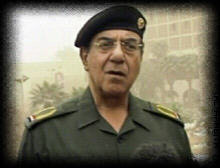 "We have destroyed 2 tanks, fighter planes, 2 helicopters and their shovels - We have driven them back."
I will not play this infidel game! And I assure you I will not comment on the events in this stupid world either. Not now. Not soon. Never! May I be condemned by Allah if this is not the truth!
Ten most recent Topics from the Forum
"Round winner", Su, 16.2.20 22:07:46
Last posting by knautschzone: "wow, this game is still alive

"
"Does anyone know who moderates this game any more?", Th, 13.6.19 8:24:17
Last posting by

Lucio Collonie: "i know, thats why i am a little bit confused and a..."
"I am going to try to take this back.", Fr, 1.3.19 4:52:20
Last posting by

Dr. Samuel J. Lumis: "Sorry. Last few rounds have been a bit bland. I am..."
"War", Tu, 1.1.19 16:36:02
Last posting by

Patton: "Thank you for wasting your money. Overall win for ME! You..."
"Round start.", Fr, 30.11.18 21:53:12
Last posting by

Patton: "Starting in the open is most effective. Don't listen..."
"Some New Round Ideas", Fr, 26.10.18 5:57:19
Last posting by

Patton: "The game does not attract new players. And for a good..."
"Modern Conquest Role Play first round, participate damn it", Tu, 18.9.18 6:22:40
Last posting by

Papa Carter: "A investigative Report published by the Baghdadi Bob..."
"A Cause for war.", Sa, 8.9.18 20:52:38
Last posting by

Ares: "True."
"Bekanntheitsgrad weltweit", Th, 30.8.18 10:37:24
Last posting by

Ares: "Geht mir auch so."

"Fragen zu Updates und zum Spielablauf", Fr, 24.8.18 12:28:35
Last posting by

Ares: "@Darkman: Werden eigentlich die Zahlen und Ausgangsfaktoren..."
Advertisements
This could be your advertisement!
Call today: 1-800-kickass